A Malaysian 'Toy Story': Enterprising couple bounce back from financial woes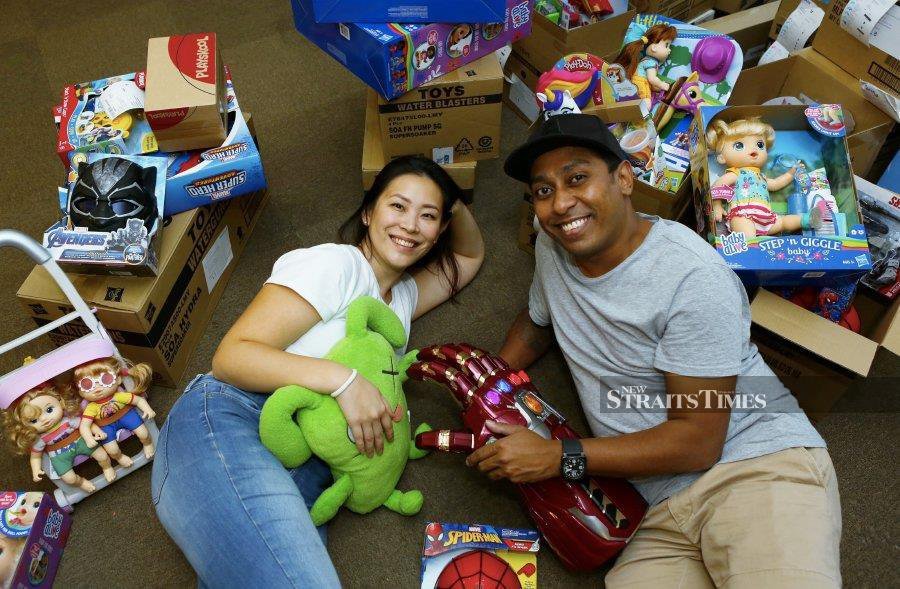 PETALING JAYA: Arvinthan Rengaraju and his wife, Chan Heng Leng, ran an events management company and a popular banana leaf restaurant, Appu Uncle Curry House, in Petaling Jaya for seven years.
They were doing quite well until the unexpected happened early last year with the deadly Covid-19 pandemic.
"Our events management company got hit hard first as jobs dried up almost overnight. Clients pulled out of jobs that were about to commence or were in the pipeline after the first Movement Control Order was enforced.
"Our banana leaf restaurant was just picking up business as we had just relocated so it suffered as well.
"We were unprepared for what was happening. As time went by, we realised the events management company could not be saved.
"So we poured our heart and soul into the restaurant and did everything we could to make things work," said Arvinthan, 41, who is better known as Arvin.
The couple initiated deliveries for takeaways and online orders, offering banana leaf rice meals from as low as RM5.80 and sold nasi lemak in the mornings by the roadside from the boot of their car, but to no avail.
"We had no choice but to close the restaurant in November," rued Arvin.
SAVING GRACE
After calming themselves down, they started discussing options for them to eke out a living to support their young family. A lightbulb moment then occurred rather unexpectedly.
"We were at home with our three primary schoolgoing children. While supervising their online learning, we would tell them they could play with their toys later and even have some new toys as a reward for completing their homework and focusing on their studies.
"It was also a means to minimise their time and dependency on screens, handphones and smart devices. From this, an idea sparked and our online toy warehouse sales platform, 'theflashsaleguys', came about."
Happily, the couple had experience in such an endeavour.
Back in 2018 and 2019, their events management company conducted warehouse sales for a global company, which has a stable of well-known toy brands. Last year, the sale was shelved because of the virus and ensuing Movement Control Order.
"We realised our children were cooped up in the house and stuck doing e-learning with little or no avenue to destress or engage in activities with their friends and schoolmates.
"Toys were a way of rewarding them and keeping them occupied and entertained.
"So we approached the company and presented our idea of doing an online warehouse sale for the toy brands in their stable. They agreed to the proposal as it was a win-win situation," said Chan, 39.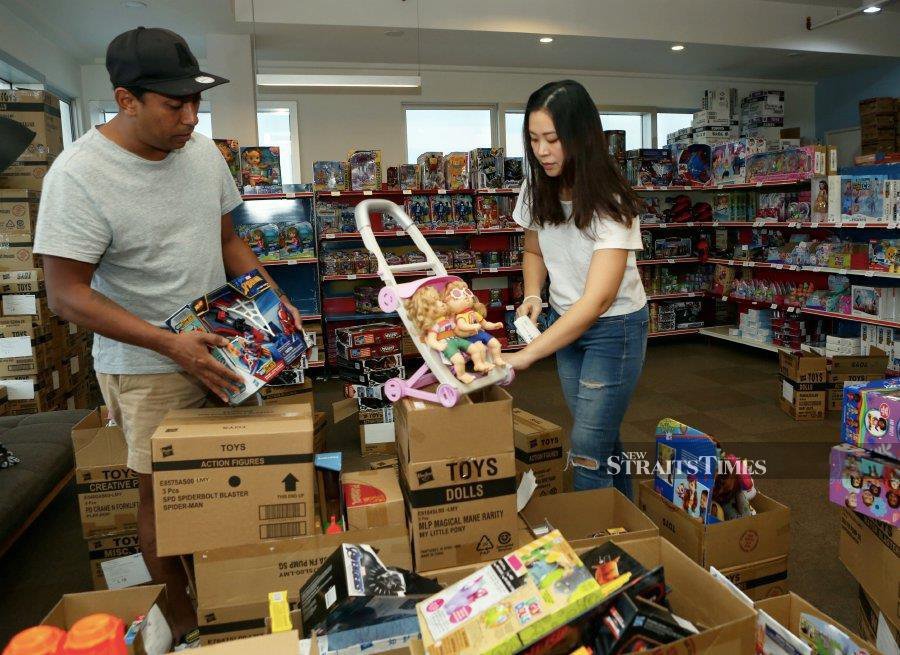 GETTING THINGS GOING
Arvin and Chan obtained stocks of toys, including board games, soft toys, collectibles, limited-edition releases and dolls and converted their office in Dataran Prima into a store and base for operations at the end of last year.
The response from the Malaysian public has been encouraging.
"At first, we spread the word to family, friends and through social media. Malaysians, especially parents and those young-at-heart, could go online to our website www.flashsale.com.my to shop for and buy all sorts of toys.
"Orders are made online and the goods are delivered via courier service within one to three working days, depending on the destination.
"Business has been brisk. Despite it being just the two of us doing everything from dealing with queries, receiving and making orders to packing and sending them all out, we are pleased as we managed to turn things around after the initial heartbreak and ordeal," said Arvin.
Apart from selling the toys on e-commerce sites such as Shopee, the couple also have their own website, Facebook and Instagram pages.
"We are in the midst of talking to a few companies that market, distribute and sell other merchandise, goods and products for our online warehouse sales.
"Once we get the green light, we will use our current platform and channels.
"All this is not just about making a living. It is our own way of providing respite and relief to our fellow Malaysians during such unpredictable and tough times," Chan said.
Press Release Link: https://www.nst.com.my/news/nation/2021/02/666966/malaysian-toy-story-enterprising-couple-bounce-back-financial-woes